Challenge by Choice - Ropes Course
The advantage of a challenge or ropes course is that everyone can participate, regardless of physical ability or athletic experience. There are no failures on the ropes course. OWLS uses a "challenge by choice" approach so that each participant measures success by his or her own standards and goals. We as facilitators are able to place participants in leadership roles where they are vital to success of the group completing the activity. Activities like belaying, spotting and offering verbal support are instrumental to the group's success.
OWLS is a member of the Association of Challenge Course Technologies, ACCT and our facilitators conduct courses under ACCT guidelines.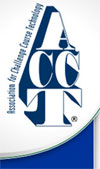 Allow us to provide you with a custom proposal that focuses on taking you to the next level.
*We respect your privacy and will never sell or trade your information.