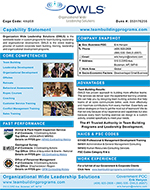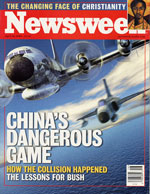 Newsweek
(pdf)
What our Clients have to say:
"Erik and his team always deliver their work with a very high level of quality. They worked very hard to become knowledgeable and conversant about my company's values and culture. This allows them to be a real thinking partner when we collaborate on work."
Bruce Randal
HR Altria Client Services
Richmond, Virginia
"We had fun; we experienced some things most of us wont dare do but did anyway; we were encouraged by our colleagues courageous attitude. The most important thing we wanted to achieve is to have fun, reality fun, and we achieved it. We would not have done it without OWLS."
Tessie Salvio
Director – The World Bank IFC
Washington, DC
"I first contacted Erik in 2000 to help design a one-day outdoor leadership experience as part of a program to help new managers understand our leadership model. His collaborative approach combined with deep knowledge and creativity resulted in a breakthrough design. Erik and OWLS continue to support us and our leadership program to this day."
Rick Phelps
Organizational Development Altria Client Services
Richmond, Virginia
"OWLS has great dedication to helping their clients overcome communication and leadership issues in their companies."
Scott Desgosseilliers
President – Web Site Company
Chicago, Illinois
"Our facilitator was very astute, flexible and worked well with our team. He allowed the direction of the session to go where it needed to go even though that may not have been the original plan."
Courtney Funk
Director – Advanced Medical Imaging
Bozeman, Montana
"Please send my sincerest and deepest thank you to Darryl, Katherine, Kate, Lynne, Dan, Josh and Tracy for an amazing leadership experience. We have received nothing but positive feedback on the exercises, the debrief and the professionalism of the facilitators."
Vanessa Allen
Partner – Law Firm
Richmond, Virginia
"Since this was our first true team building event it showed us that there are fun ways to strengthen our communications with each other."
Betty Arnold
Genworth
Richmond, Virginia
"The OWLS provided an afternoon of rewarding team buildingexe rcises in an exceptional outdoor environment. My staff hadnothing but positive comments on the activities and resultant lessons learned."
F.H Parker
Captain, U.S. Navy
AEGIS Shipbuilding Division Director
Norfolk, Virginia
"I have had several phone calls this week telling me t hat your team building exercise was the most memorable part of ourconference. That is exactly what we were looking for."
Chad Chappell
President
Meeting Professionals International, Potomac Chapter
Gaithersburg, Maryland
"We would like to thank you so much for the wonderful time. Th is has been the first retreat we had without any flaws or difficulties. It has been the theme of our conversation for the entire day today! Everything went very smooth and that is thanks to you for your professional service."
Alexandra Roncal
World Bank Institute
Washington, DC
"Great, atmosphere for team building. Improved communicationamong the group. Outstanding to work with."
Mike Burton
General Manager
Target Mid-Atlantic Distribution Center
Stuart's Draft, Virginia
"It was awesome! Boar's Head Inn is Great. The management team thoroughly enjoyed the team building dinner event!"
Diane Nathanson
Assistant to the President
Infineon Technologies
Richmond, Virginia
"We successfully achieved bringing a very new team together and gaining team work and building relationships. It was extremely valuable -Many Thanks- !"
Shirley Gibbs
Manager
Mary Washington Hospital
Richmond, Virginia
"I appreciated the time and effort you and your partners took in customizing the program for the Montana Association of Chamber executives. Your preliminary interview and follow-up prior
to the program ensured its success."
David Smith
President
Bozeman Chamber of Commerce
Bozeman, Montana
"Thank you for a wonderful program that will certainly have lasting effects on us all, both personally and professionally."
Janet Green
CEO
Operation Smile
Hampden, Virginia
"Definitely brought up some issues to be addressed. Liked the challenge and excitement."
Benjamin V. Madison, III
Partner
Hunton & Williams
Norfolk, Virginia
"Dangling 90 feet above the ground on a granite rock face you're taking risks you usually don't deal with, and suddenly your co-workers are helping you. You
see people in a different light."
John Tedesco
Sales Executive
DMR Consulting
New Jersey
I would recommend these programs to any leadership team or self driven work team".
Terry Mead
Support Manager
Schlumberger
"When I was looking for help in evaluating prospective managers for my company, I hired OWLS to provide me with DiSC assessments on my primary candidates along with evaluation and consultation. The process was very promptly put into place and the information that I received was invaluable in helping me to make the right hiring decisions."
Bruce Grubbs
CEO
Rocky Mountain Wireless
"I can't wait to recommend this program to everyone possible! To learn in a non-threatening environment about how to work together effectively in today's business environment is SO POWERFUL! OWLS has the right concepts and approaches! This program was truly worth every penny!"
Susan M. Powell
Former VP
Lincoln Property Co.
"Every staff member incorporated strategies and tools you taught into their next training class and continue to do so. Classes are much more interactive and engaging. And the payoff we have had fantastic feedback from the program staff that we provide training to and they look forward to attending our training classes."
Patsy Westcott
UI Program Coordinator, Alaska Department of Labor
Anchorage, Alaska
"We would like to thank you so much for the wonderful time. This has been the first retreat we had without any flaws or difficulties. It has been the theme of our conversation for the entire day today! Everything went very smooth and that is thanks to you for your professional service."
Alexandra Roncal
World Bank
Washington, DC
"The networking on these programs and the learning experience is invaluable."
Paul Reichert
Executive Director of the Downtown Bozeman Partnership
Bozeman, Montana
"The most important thing you can do as a manager is set realistic personal and business goals for each individual on your team . . . and make sure they achieve them."
Erik Henyon
CEO, OWLS
"I wanted to thank OWLS for making our Manager's Retreat such a great success. I also want to let you know that the OWLS Team did an excellent job for us and I would highly recommend the event and the OWLS Team to anyone."
Stacey Proctor
Human Resources Manager ARAMARK
"Sequencing or intentionally ordering activities is one of the most fundamental aspects of challenge course facilitation."
Jennifer Stanchfield,
ACCT Association of Challenge Course Technology
"We successfully achieved bringing a very new team together and gaining team work and building relationships. It was extremely valuable . . . Many Thanks!"
Shirley Gibbs
Manager Mary Washington Hospital
Richmond, Virginia
"As a result of standardizing our training curriculum and putting the LDAs through your training program, which emphasized both design elements and excellence in delivery, we have experienced a 40% growth in our production over last year."
Gerry Heiple
Former VP, Foresters
"I have to say, I was surprised at the enthusiasm with which Donna's material was received by this really tough audience. It really struck a chord with them, and made an impression. I never would have envisioned our technical people (who come from a construction-type background) accepting, let alone learning from and enjoying, so many right brained methods."
Jeff Oster
Technical Training Manager
Schindler Elevator
"Others agreed it was a really fun and unexpected experience. Then there was the stuff I shared with you about many of the participants stating they now have newly created networks to tap into as a result of yesterday's session. Overall, they seemed really happy, spirited and congenial with each other as we closed the session. I definitely think they "got" all of the connections. Thanks for all 36 sessions". Holly Chasan Capital One University Richmond, Virginia